GRAPHENE
The lightest, thinnest and strongest material in the world lives in HEAD equipment. Stronger than diamond and over 300 times stronger than steel and only the thickness of one atom, you can benefit from the most advanced material on the planet on the slopes with equipment that is lighter and stronger.
DISCOVER HEAD'S GRAPHENE SKI CONSTRUCTIONS
While Graphene is the most advanced material known to man, it is not only for the best skiers in the world. Discover our Graphene constructions, each tuned for a different style of skiing.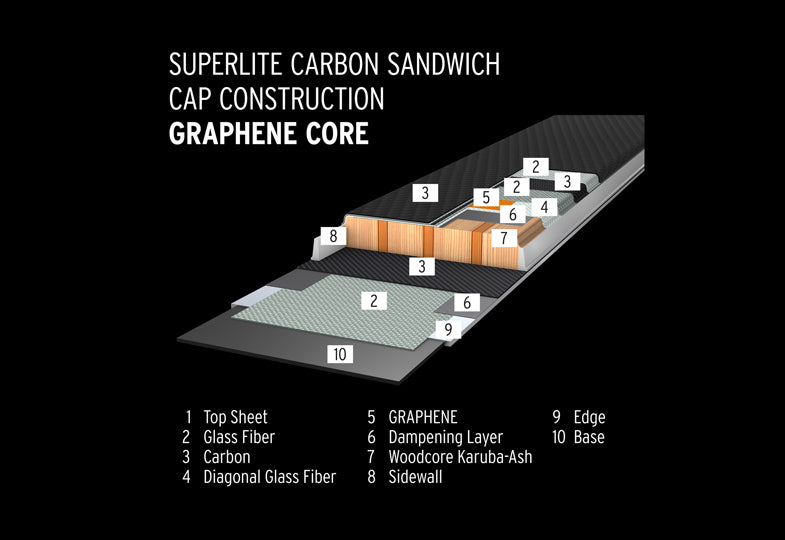 SUPERLITE CARBON SANDWICH CAP CONSTRUCTION
By combining the lightest and strongest materials we have been able to develop a more stable, powerful and lightweight ski. Utilising Karuba wood, carbon and Graphene guarantees the highest level of performance per gram. The ultimate balance of performance and light weight.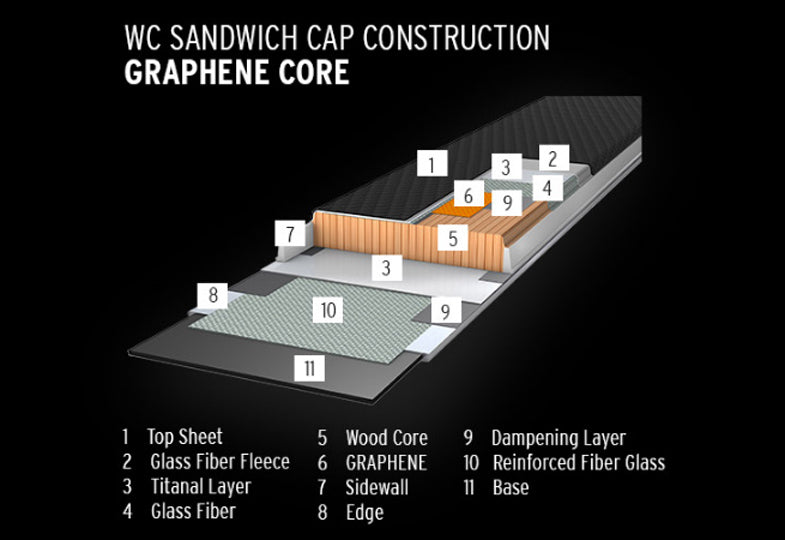 WC SANDWICH CAP CONSTRUCTION
The Graphene WC Sandwich Cap construction is developed with the most sophisticated material known to man. It has a balanced mix of light Graphene and extra titanal layers and combines the most extreme agility with extreme responsiveness for ultimate performance.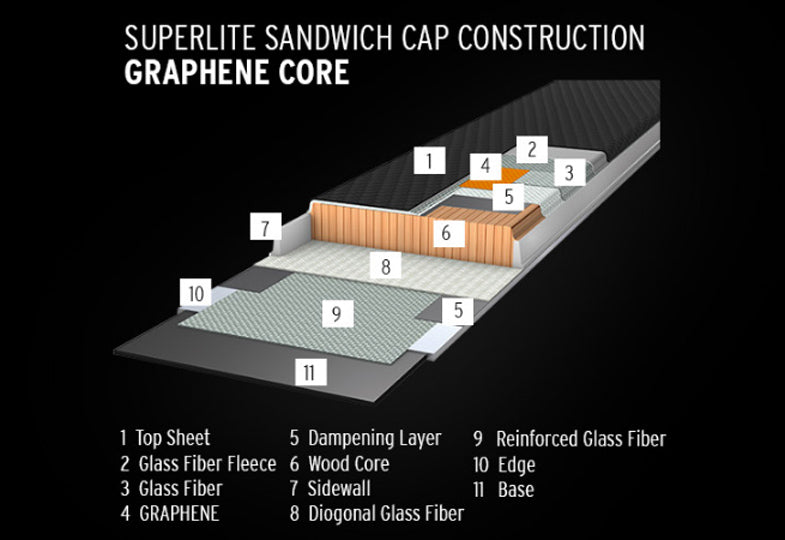 SUPERLITE SANDWICH CAP CONSTRUCTION
Thanks to the unique properties of Graphene, the Superlite Sandwich Cap Construction has had a reduction in the materials inserted with an increase in its responsiveness, allowing faster and more precise change from edge to edge. This is the ultimate ski for flotation and responsiveness.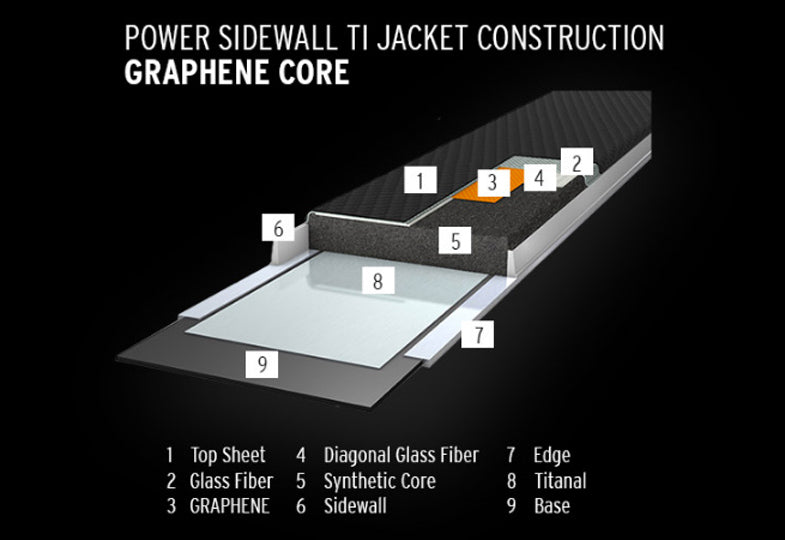 POWER SIDEWALL TI JACKET CONSTRUCTION
The Titanal and Graphene layers create a solid and responsive ski. The synthetic injected core is supported with ABS sidewalls. This allows for a soft longitudinal flex coupled with a super responsive torsional flex.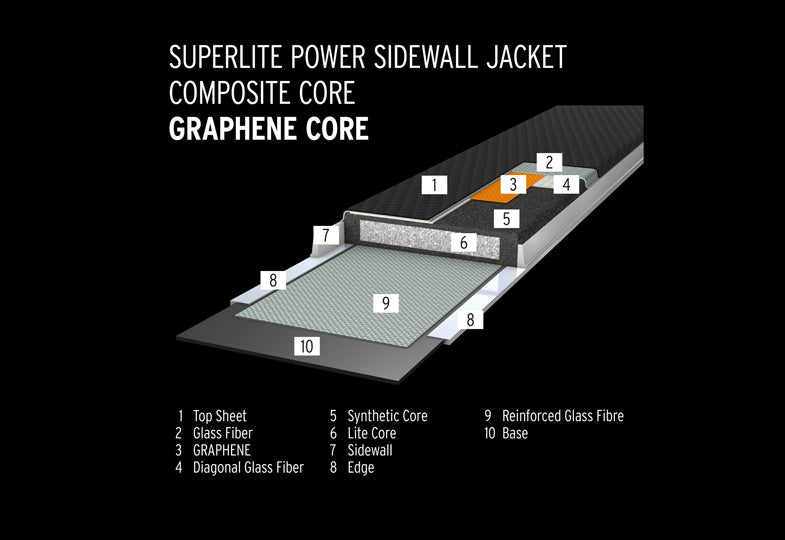 SUPERLITE POWER SIDEWALL JACKET COMPOSITE CORE
To make this construction even lighter, material from the heart has been replaced by a lighter material. A layer of Graphene has been inserted to not only insure the performance is unchanged but actually increased. The overall thickness of the core is reduced, making it a composite that is easy and forgiving, but always precise.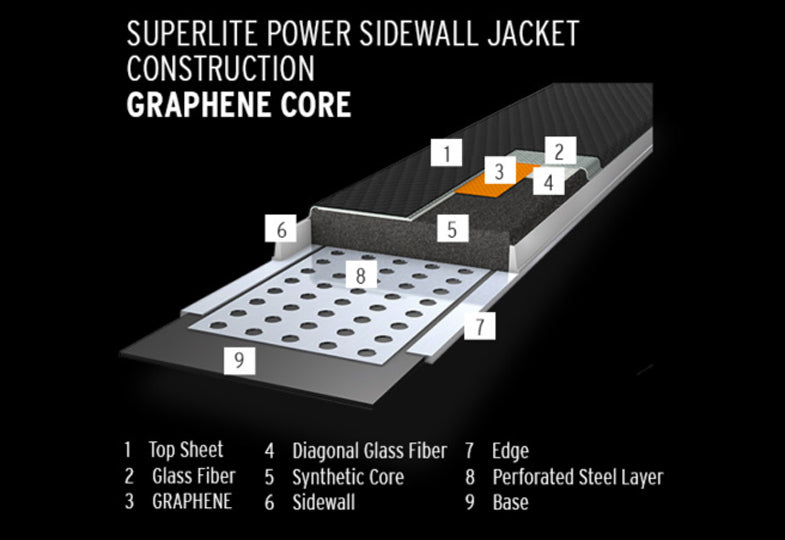 SUPERLITE POWER SIDEWALL JACKET CONSTRUCTION
To reduce weight, further, material from the sidewall jacket has a synthetic injected core and is supported with ABS. It has a superlite construction thanks to GRAPHENE and allows for soft longitudinal flex coupled with a super responsive torsional flex.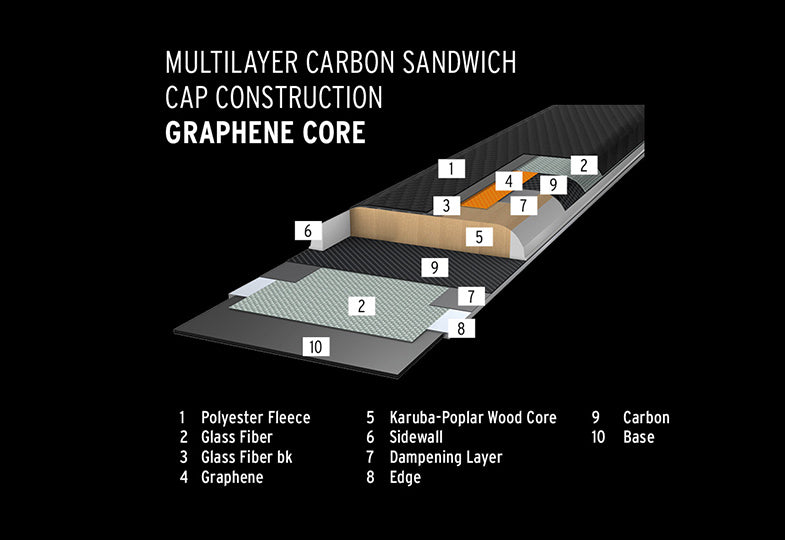 MULTILAYER CARBON SANDWICH CAP CONSTRUCTION
Developed from the most sophisticated materials known to man: the Super Light Sandwich Construction makes up one of the world's lightest freeride skis by utilizing Graphene, two different carbonlayers, as well as replacing the surface with a polyester fleece. The ultimate construction for a high performing freeride ski.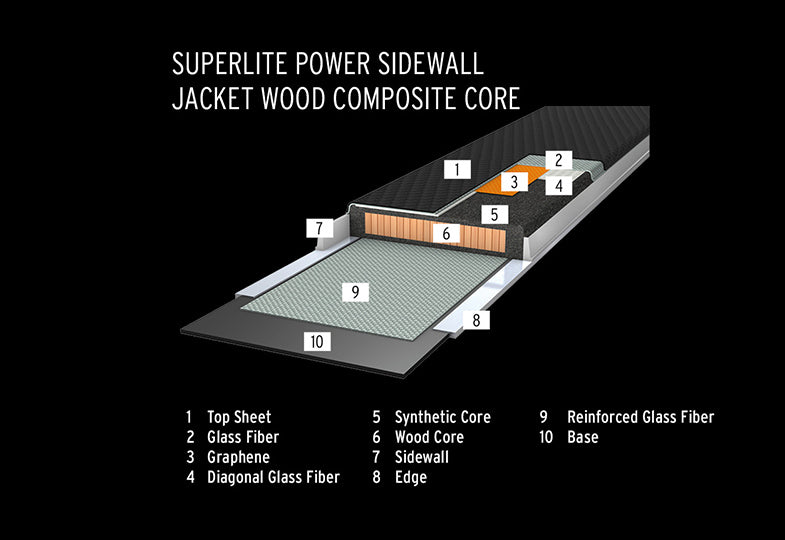 SUPERLITE POWER SIDEWALL JACKET WOOD COMPOSITE CORE
A vertically laminated wood core with a PU injected sock around it. The cap construction with ABS Sidewalls insures complete protection from mechanical damage. The wood insures stability against vibrations and a smooth ride for target groups looking for ambitous performance.